In the pursuit of beautiful eyelashes, we often reach for specialistic cosmetic treatments, among which the most popular are eyelash extensions. What is the procedure about? Is it a good idea or maybe it has too many disadvantages?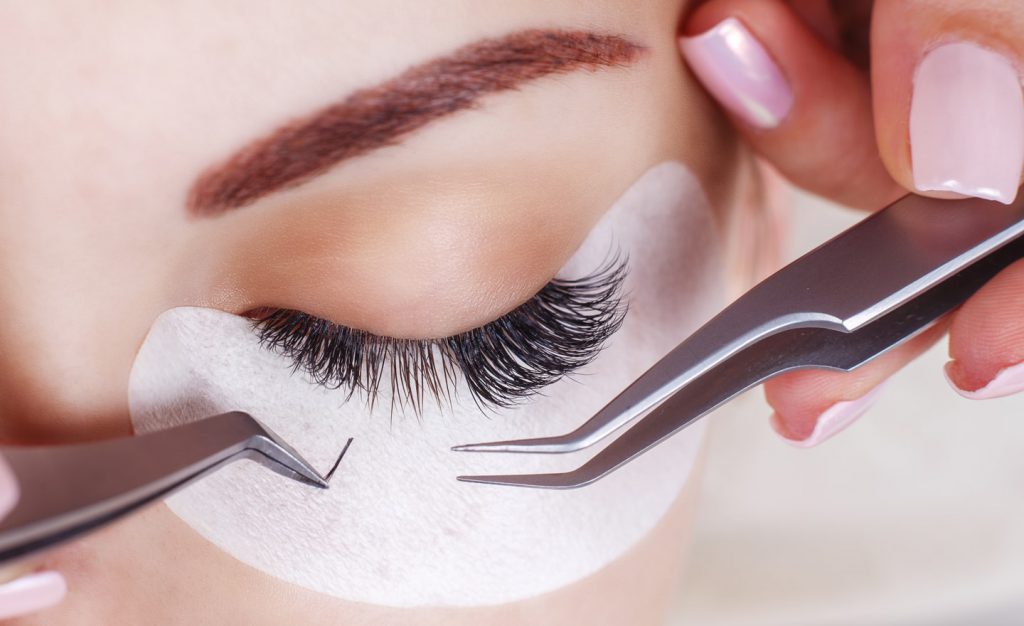 Properly composed set of nutrients should be enough to make your eyelashes beautiful, strong and long. Unfortunately, the effects of various eyelash serums are not immediate. This is why many women decide to extend their eyelashes hoping that in just a moment they will be able to enjoy their spectacular lashes for a very long time.
Before you decide to have your eyelashes extended, be sure to read more about the procedure and its effects.
What are eyelash extensions?
This is a cosmetic treatment that adds volume to the eyelashes. Of course, it is not about lengthening natural hairs, as it would be impossible in such a short time, but attaching false lashes to mask the natural ones. Each falsie or tuft is attached to a natural hair, thanks to which the effect obtained is more natural than when using eyelash strips.
How long does the procedure take?
Due to the fact that the treatment requires a lot of precision and involves attaching false lashes to individual natural lashes, it takes a lot of time. It's impossible to get eyelash extensions in 15 minutes. Depending on the method chosen and the skills of a beautician (some of them need less time because of being more advanced), we need to devote 1 to even 3 hours. It is all with your eyes closed! It's good to be prepared for it and have the right amount of time. The treatment done in a hurry will not give satisfactory results.
Eyelash extensions – types
What type of eyelashes are used during the procedure? The most common are false eyelashes made of flexible synthetic materials. We can also choose between silk and min fur lashes – they look more natural, expressive and are more delicate.
Falsies have also appropriate lengths, thicknesses, colours and curls. Thanks to this, just by choosing the right size and shape, we get obtain a relatively natural effect suitable for a given person, its face shape and eye size.
What are the methods of eyelash extensions?
The most popular is 1:1 method, that involves attaching one false lash to each natural eyelash. As a result, the eye looks beautiful and emphasized in a natural, non-exaggerated way.
However, there are also other methods that are categorized as volume techniques. In their case, all tufts of eyelashes with 2 to even 5 eyelashes are glued to one natural hair. Depending on the amount of eyelashes in the tuft, they are called 2: 1, 3: 1 methods, etc. Of course, these types are much more overloading for the eyelashes.
There are many possible variations, so depending on the colour, size and type of lashes used, we can use a different method.
Are eyelash extensions safe?
Of course not. This is definitely the worst treatment that we can try on our eyelashes. Those delicate hairs are not prepared to carry such load as false eyelashes (especially the tufts). Attaching something to their structure for a longer time causes the eyelashes to fall out faster and in greater quantities. After having the extensions removed, it may turn out that our natural eyelashes are completely destroyed.
Disadvantages of eyelash extensions:
It's very expensive.
It requires a lot of time.
It may overload the eyelashes.
It may cause sensitization to glue or false eyelashes.
It does not give a natural effect.
It requires refilling hence further visits in the salon are necessary.
It is limitation in everyday life.