Cucumber has been ruling in skin care for many years now and its benefits are known to almost everyone. However, only now its enormous potential is recognized and fully exploited. Discovering all beauty benefits of this vegetable became possible due to the advanced cosmetology and its methods of obtaining the active substances that cucumber has.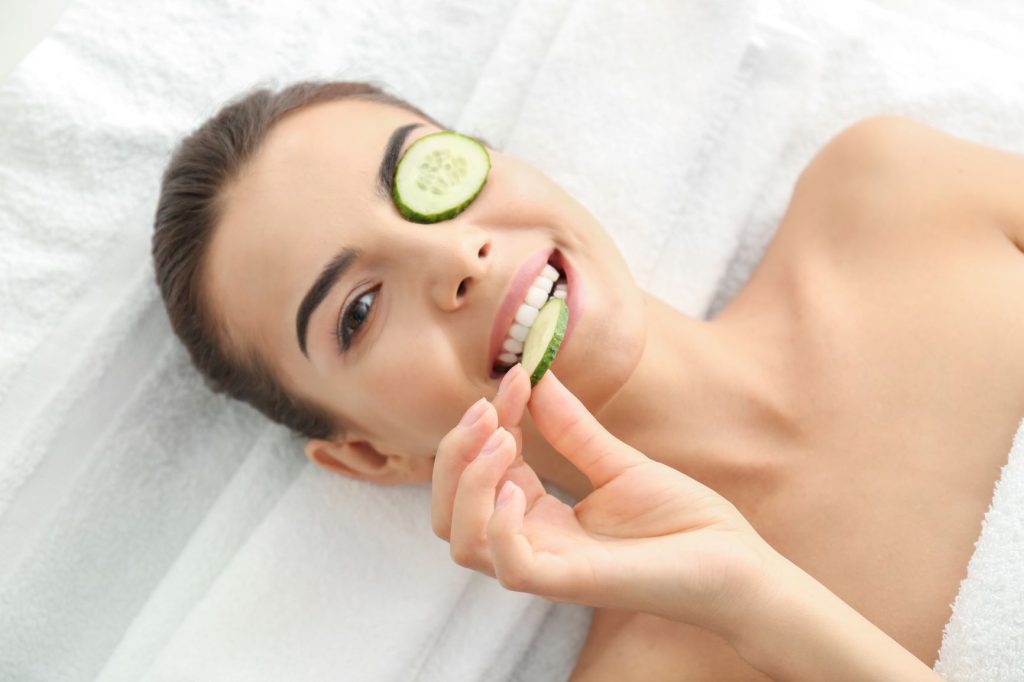 Cucumber extracts, no matter if obtained at home or bought in a shop, have no equal. Find out what effects on your skin cucumber has, why it's worth using cucumber beauty products and how to prepare homemade cosmetics using this green, invigorating and highlighting vegetable. There is no better way to take care of your skin than with the aid of a natural beauty product.
Moisturizing face toner with cucumber
Our skin adores these freshening-up cucumber extracts! Why? It turns out that 95% of cucumber is made of water, which makes it a perfect alternative to a facial toner – grade it and collect the juice to wipe your face with it. Cucumber juice is suitable to clean your face and moisturize it in a single step.
Perfect pH of cucumber
Another reason for cucumber being a highly valued cosmetic by many is the fact that its pH level is alike our skin's. Therefore, it's commonly added to various skincare products – not only face toners but also face creams. Cucumber knows how to smooth out, highlight and soften epidermis. Moreover, all skin types – no matter if dry, acne, couperose, mature or combination – tolerate cucumber extracts equally well. This green fruit leaves face skin brightened up and radiant.
Vitamins and minerals in cucumber
Fresh cucumber appears to be a rich source of minerals and vitamins that are found crucial in skin care (no matter the age):
Vitamin C – is the most precious of all vitamins, invaluable for skin self-regenerating processes; it halts ageing process, fights off free radicals and takes care in collagen synthesis.
Vitamin K – erases discolorations, improves skin tone and brightens skin up making it more radiant.
Potassium – prevents water loss and moisturizes skin from the inside.
Sulfur – invaluable when it comes to combating acne, prevents skin blemishes, is bactericidal.
Rescue for tired eyes
Did you know why celebrities and models keep using cucumber slices as the best form of eye mask? Cucumber is rich in mineral salts and revitalizes skin, reduces swellings and erases dark circles under eyes like no other substance. This makes it one of the finest agents to get rid of puffy and tired eyes.
Home cucumber face masks
Apart from putting slices of cucumber on face, it's also worth making use of the face cucumber mask. This gives you hydration boost, a huge portion of nourishment and freshness for skin. Also, the appearance and suppleness of skin gets radically improved.
Grate cool cucumber. If necessary, remove the excess of water (you can use the juice as a face toner). Don't peel the cucumber because right underneath it there are the most valuable nutrients. Put the grated cucumber on face or combine with other ingredients such as clay or natural oil. Below you can find a few suggestions:
Soothing mask – combine cucumber with a spoon of natural yogurt. Basically, you can also make use of such mask to relieve sunburn.
Regenerating mask – add two spoons of honey and combine with cucumber.
Mask to highlight discolorations – combine cucumber with fresh lemon juice.
NOTE: If you add a few leaves of mint, the face mask will gain additional cooling properties.
Have you already fallen in love with cucumber? Reach for professional beauty products containing cucumber extracts. Remember to read their INCI to check whether the cucumber extracts are enumerated as the first ones.