The French manicure has always been popular among the fans of natural nails. What is it exactly and how to do it?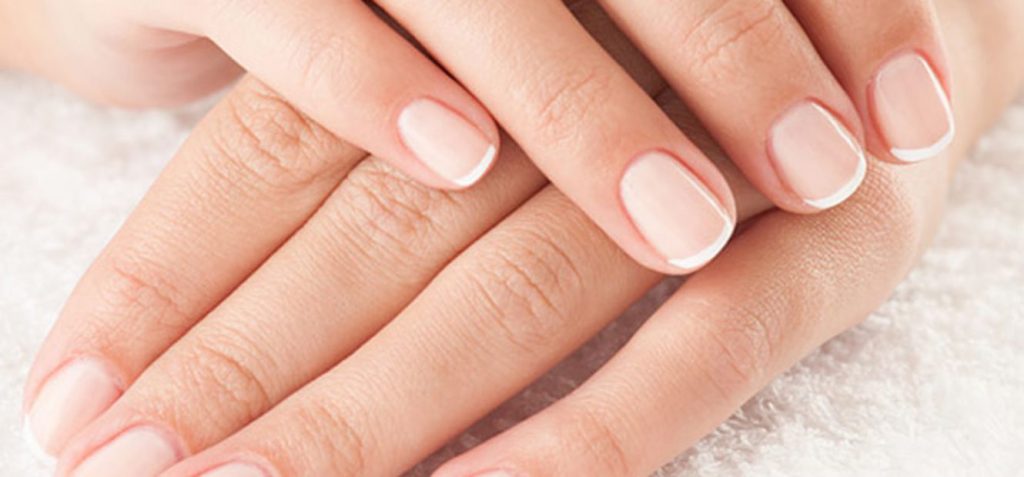 What is the French manicure?
Although it looks best on nails with a slightly square shape, it will decorate every hand. French manicure involves application of two colours:
white – applied onto the tip of nails;
pale pink, cream, or clear polish – applied onto the entire nail.
How to do a French manicure?
You need to start by cleaning the skin around the nail plate. If the nails have been heavily soiled, for example by peeling vegetables, they can be whitened with lemon. To do this, just cut it in half and dip the tips of your fingers in it for 15 minutes, and then put the hand cream or oil on.
Make sure you have:
a bowl with warm water and soap,
orange wood stick,
paper file,
cuticle oil.
First, soak your nails in soapy water for 15 minutes. Then, gently push the cuticle back with the orange stick. It's better not to cut it as it might damage the condition of your nails and result in a whitlow. The next step is to file the nails – specifically the tips – so that they create a smile line. Don't file too far into the sides of the nails as it may cause some breakage. Then degrease the nails with salicylic alcohol or nail polish remover. After that, apply a coat of a nail conditioner to protect your nails from yellowing.
To do a French manicure you need:
nail conditioner as a base,
two nail polishes – white for nail tips and transparent pink or beige for the entire nail
top coat/ nail polish hardener.
You might also need:
guide strips that will facilitate precise painting of the white part,
a white pencil for tinting the nail from the bottom,
nail polish corrector pen, which cleans excess nail polish or can be used to make some corrections. After use, the corrector's tip should be cleaned with a tissue.
French manicure step by step:
At the beginning apply some cuticle softener, this is not necessary but will facilitate the task by softening the cuticles. Then remove the old layer of nail polish and degrease the nail with a nail polish remover without acetone.
Apply the nail base to protect your nails.
Paint rounded white tips. If you need some help with painting a straight line, use a guide strip.
When the nail polish dries, gently peel the strips off.
Apply two layers of transparent pink or beige nail polish to the entire nail
In order to make your nails last longer, apply a top coat, which also accelerates the drying time.
If the guide strips are not helpful enough, use a white pencil to tint the nail from the bottom.