Tired-looking and sallow face? Saggy and dull skin? Does it feel like your skin is asking for some help, e.g. a portion of nourishing vitamin C? This essential nutrient is one of the most recommended vitamins to greatly improve skin appearance. It deals with many skin concerns to make your complexion revitalized, brighter-looking and even. Choosing a good vitamin C face serum is the fastest way to get glowing skin with no traces of wrinkles or other imperfections. Continue reading to find out why vitamin C should become an integral part of your daily skin care regimen.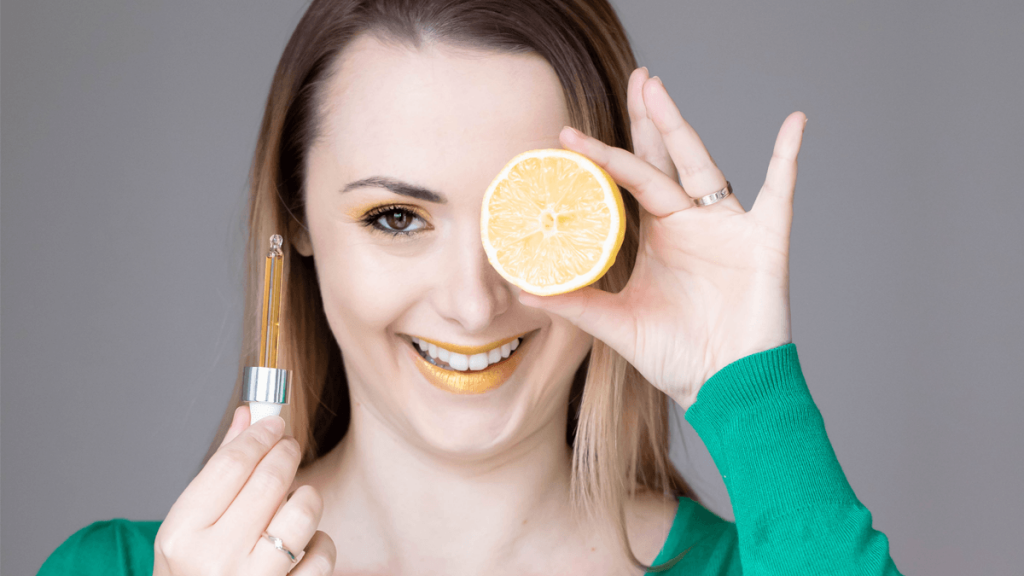 VIT C: More than just a pigmentation spot eraser!
Associated mainly with a common cold and inflammations, vitamin C offers more than just health benefits. When applied to skin, this nutrient refines skin's texture, removes redness and erases various skin discolorations (e.g hyper-pigmentation, age spots and sunspots). Scientific researches proved that vitamin C is a potent agent that effectively deals with various skin concerns and is able to take a good care of the face.
When incorporated into a face serum, vitamin C:
REDUCES WRINKLES
BRIGHTENS SKIN UP
EVENS OUT SKIN TONE
COMBATS ACNE AND ERASES POST-ACNE SPOTS
SHIELDS SKIN AGAINST UV AND HEV
REMOVES REDNESS AND PIGMENTATION SPOTS
SOOTHES AND ENCOURAGES SKIN HEALING
Vitamin C and its synthetic derivatives
The genuine form of vitamin C has its name – ascorbic acid. Apart from having rejuvenating and revitalizing effect on skin, it's rather unstable and breaks down before it manages to reach to the deepest skin layers. For that reason, nowadays cosmetic laboratories synthesize ascorbic acid to get more stable form of vitamin C so we can enjoy all its benefits in skincare. Able to penetrate skin deeply, 3-0-ethyl ascorbic acid is currently known to be the most stable, and thus the finest form of pure vitamin C that can be combined with other substances to create remarkable and highly effective skin care products.
Effective vitamin C face serum is the one formulated with the stable form of vitamin C and other high-quality ingredients. Obviously, such product should be free from parabens, dehydrating alcohols, PEGs and other kinds of synthetic substances that we don't want to put on our delicate facial skin. Keep reading to find out which vitamin C face serum is the top-rated one.
1. Nanoil, Vit. C Face Serum | 50 ml | vitamin C face serum
age: 20s, 30s, 40s, 50s, 60s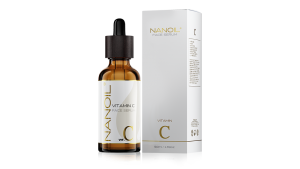 formulated with:
the finest, stable compounds of vitamin c (aka 3-0-ethyl ascorbic acid) – rejuvenates, brightens skin up, erases signs of fatigue, gives youthful-looking skin with no discolorations or imperfections, replenishes skin with nutrients and hydration
punarnava root extract – a highly efficacious antioxidant brimming with precious flavonoids and plant sterols, fights off free radicals and repairs micro-damage in skin
Nanoil, Vit. C face serum is reportedly one of the top-rated and most recommended skin care products. The users are happy with the speed of delivering effects which ensures immediate skin improvement. Over time, Nanoil, Vit. C face serum delivers even skin tone, brighter-looking skin and complete pigmentation marks removal. These effects wouldn't be possible to achieve if it wasn't for 3-0-ethyl ascorbic acid, which is the original vitamin C in its most efficacious form. It's able to penetrate skin deeply to revitalize it, prevent wrinkles and make it more supple. Owing to the rare punarnava root extract, this vitamin C face serum also plays a role of a potent antioxidant. This cosmetic is perfectly suitable for all skin types, especially for the face constantly exposed to urban pollution and adverse weather conditions.
Learn more: www.nanoil.co.uk
2. Lumene, Nordic C Glow Boost Essence | 30 ml | vitamin C face serum
age: 20s, 30s, 40s, 50s, 60s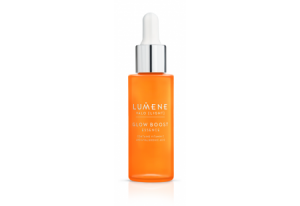 formulated with:
vitamin c – ascorbyl glucoside, which is a synthesized form of vitamin C that is quite stable
cloudberry extract – a strong antioxidant that shields skin against oxidative stress and prevents skin damage
hyaluronic acid – is responsible for moisturizing, attracts and gathers water molecules, improves skin resilience, protects skin from losing hydration
This vitamin C face serum well-tolerated by skin at all types. Despite being rather expensive, this skincare product has plenty of users who like it for giving them radiance boost and this desired skin lightening effect. A non-greasy consistency penetrates skin easily and gives the lasting sensation of fresh and well-nourished face.
3. Timeless Skin Care, 20% Vitamin C + E Ferulic Acid Serum | 30 ml | vitamin C face serum
age: 20s, 30s, 40s, 50s, 60s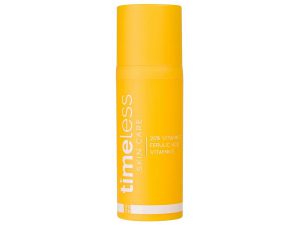 formulated with:
vitamin c – an antioxidant that rejuvenates skin, makes skin brighter and leaves it looking well-rested
ferulic acid – plays a key role in tissue regeneration, is enzymatic
vitamin e – a potent antioxidant having an anti-ageing effect
panthenol – soothes and brings relief to skin irritations
Timeless Skin Care vitamin C face serum combined with another de-ageing vitamin (E) is one of the best antioxidants for face skin. It handles removing sunspots and other discoloration (e.g. post-acne spots) really well. Ferulic acid takes active part in skin self-healing processes and – alike the above-mentioned constituents – it's also a potent antioxidant. This skin care product has a lightweight and non-greasy formula that is well-tolerated by all skin types. It doesn't clog skin pores. Can be used as a makeup primer.
4. Sesderma, C-Vit, Liposomal Serum | 30 ml | vitamin C face serum
age: 30s, 40s, 50s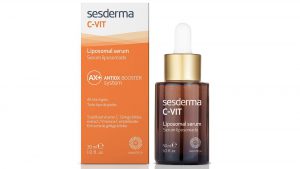 formulated with:
vitamin c (aka 3-0-ethyl ascorbic acid) – rejuvenates, brightens skin up, erases signs of fatigue, improves reslience
This is a fairly heavy vitamin C face serum containing the finest from of vitamin c. Apart from it, the list of ingredients also features PEGs, alcohols and synthetic fragrances which may have a negative impact on 3-0-ethyl ascorbic acid. Due to the fact that this serum contains so many constituents, it's suggested running a patch test prior to the first use. Sesderma vitamin c face serum is mainly recommended to oily face because it helps oily glands start working properly – in other words, it deals with seborrhea. Also, mature skin should benefit from being treated with this serum since it makes skin a little bit tighter. When used regularly, this vitamin c face serum visibly improves both skin appearance and resilience. It's suitable to be applied prior to doing makeup.
5. The Ordinary, Ascorbyl Glucoside Solution 12% | 30 ml | vitamin C face serum
age: 30s, 40s, 50s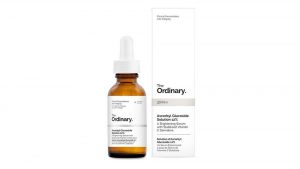 formulated with:
vitamin c – ascorbyl glucoside which is a synthetic vitamin c derivative that is quite stable; improves skin appearance and makes it brighter-looking
This face serum by The Ordinary containing 12% vitamin c concentrate is known for being a potent skin improving cosmetic that also delays the appearance of wrinkles and highlights hyper-pigmentation. When used on a regular basis, this vitamin c face serum is able to make skin a few tones brighter and prevents capillaries from breaking. Moreover, this skin care product deals with redness and helps skin remain healthy-looking. Being lightweight, the face serum absorbs quickly and can be used before applying makeup.