Some skin care products mustn't be paired together, did you know that? If you don't want to weaken the effect of your products or harm the skin, get to know the forbidden duos! Take a look at substances that don't get along, sadly.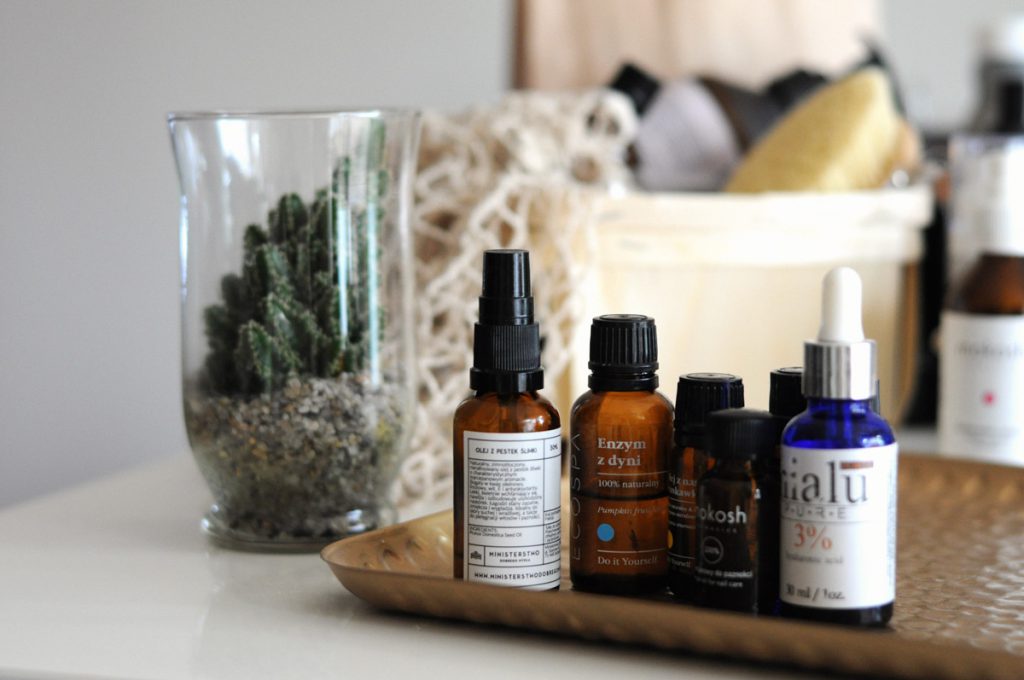 There's always something going on in the world of cosmetics. New products keep arriving, and we keep discovering more and more interesting uses of well-known substances and test new mixtures. Let's just remember that not every pair is good for us.
What not to pair together in order to head off skin irritations? Which ingredients counteract each other? Which pairs must be avoided in skin care at all costs? Let me remind you about a couple of key rules to follow.
SECRETS TO EFFECTIVE SKIN CARE
Few people know that some products cannot be paired together. We reach for various cosmetics without thinking whether they make a good match or not. In turn, we either suffer from irritations or ineffective skin care not giving desired results.
We are to be blamed since we combine substances and products that should never be mixed. Take a look at the best examples.
WHAT INGREDIENTS CANNOT BE PAIRED TOGETHER?
Vitamin C + AHA/BHA acids
The great popularity of vitamin C serums no longer comes as a surprise. After all, ascorbic acid does away with pigmentation spots, has an antiaging and antioxidant effect. If you suffer from hyperpigmentation (post-sun or acne spots), vitamin C is probably an essential element of your daily skin care, and it should be!
AHA and BHA acids (glycolic, mandelic, salicylic) have a similar effect, exfoliating epidermis and making skin tone even. Too bad, using both ingredients might be too much for skin. A vitamin-C-and-AHA/BHA-acid duo acidifies skin and strips off its hydro-lipid film. Devoid of protective mantle, skin has too low pH which leads to irritations and redness.
Vitamin C + vitamin B3
Another substance that should not be paired with popular vit. C is vitamin B3. Niacinamide (vit. B3) aims at sealing the epidermis, aids in skin healing process and lessens post-acne spots through stimulating the production of ceramides.
Unfortunately, using it together with vit. C might have bad consequences – niacinamide either neutralizes the effect of ascorbic acid or causes formation of nicotinic acid (niacin) which in turn triggers redness, itchiness and burning sensation.
WHAT PRODUCTS CANNOT BE PAIRED TOGETHER?
Physical exfoliator + chemical exfoliator
Using physical and chemical scrubs simultaneously is another thing that has a rather bad effect on the skin. Even more so if your skin is acne-prone, couperose, sensitive or generally-speaking problematic. Why?
A physical scrub exfoliates dead cells by strippinng them off with abrasive particles (sugar, salt, raspberry seeds, apricot seeds). A chemical scrub uses acids (ferulic, glicolic, mandelic) instead – they speed up natural process of epidermal exfoliation. Using both types of exfoliators is an easy way to cause irritations and serious damage to the epidermal skin layer. Less is more!
Anti-acne treatments + retinol-based cosmetics
Similarly to vitamin C serums, retinol-infused products are growing in popularity. Retinol has an anti-wrinkle effect, stimulates synthesis of collagen and enhances exfoliation of dead cells. It works strongly and therefore it isn't recommended for a daytime use (so you can keep skin from becoming oversensitive to the sunlight).
There's one more rule concerning vitamin A – you cannot use it together with anti-acne preparations. Pairing it with products containing benzoyl peroxide or adapalene might end up badly: seriously irritated or inflamed skin typical of acne skin.