There is no need in explaining how much we love universal cosmetics. Such products are ideal for various body parts care or just can be used as two-in-one or even multi-task products. Thanks to this, our wallet does not suffer much because we do not have to buy several cosmetics at once. One example of such an universal cosmetic is Multi-Usage Dry Oil Huile Prodigieuse® by Nuxe.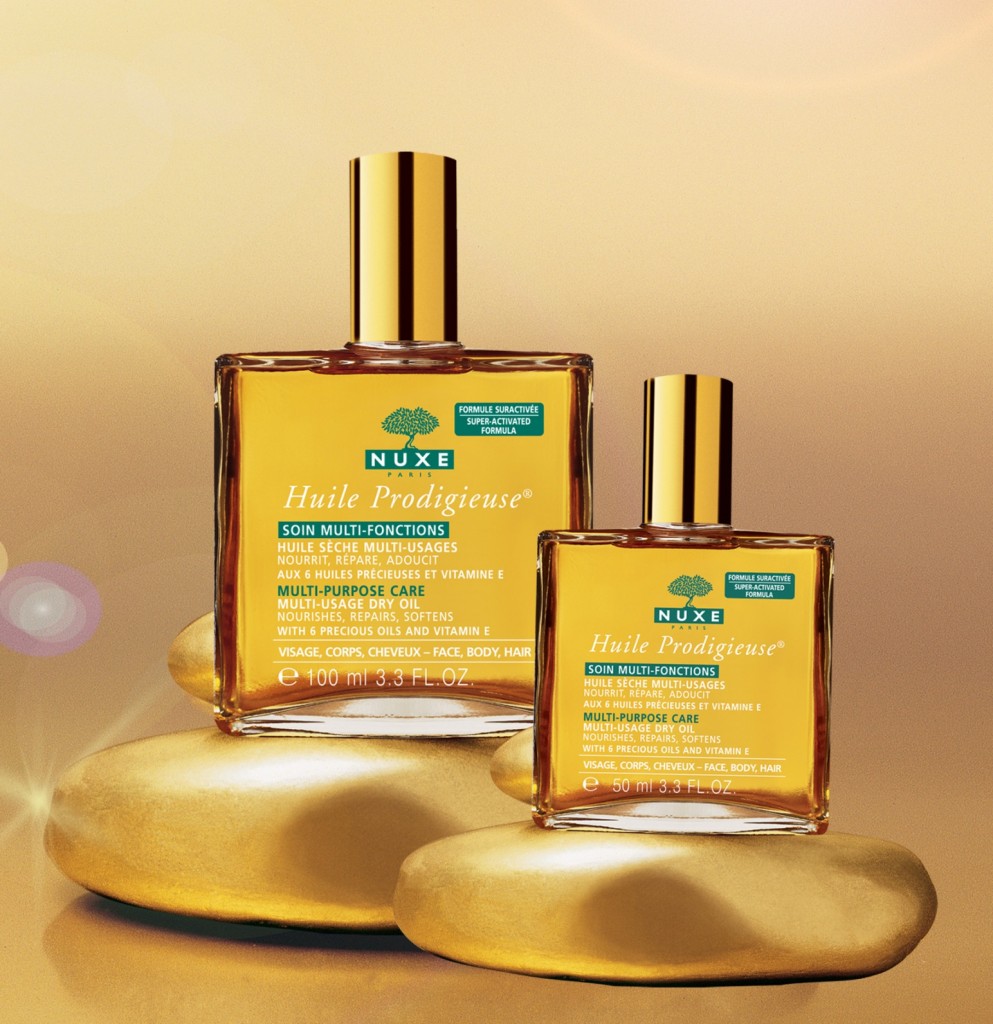 Nuxe launched two versions of dry oil: gold Huile Prodigieuse® and the other one, with sparkling particles called Huile Prodigieuse® OR. The cosmetics differ in terms of composition, texture and properties. The version without sparkling particles is enriched with E vitamin, sweet almont oil, camellia blossom extract and starflower seed oil. The second version is composed of starflower seed oil, rosemary, macadamia plant oils and extract of hazelnuts. Huile Prodigieuse® has more liquid consistency than Huile Prodigieuse® OR, which is denser and heavier. Nuxe cosmetic, the one without particles, can be used as a highlighter or a moisturizing product of glossing properties for body, face and especially for hair. On the other hand, Huile Prodigieuse® OR, used for evening night outs or during the summer, is able to make our skin shine healthy.
Both cosmetics from Nuxe have moisturizing, nourishing and regenerating properties. E vitamin accelerates cell renewal processes, improves skin condition and provides youthful looking. Oils made of seeds, fruits and other plants are good at not only moisturizing body but also at smoothing and softening skin. Thanks to Nuxe products, both body and hair will smell incredibly pleasant and face skin will be well taken care of.
Furthermore, packages of both Huile Prodigieuse® cosmetics have got pump as a dispenser. The golden liquid is closed in an elegant, glass bottle ended with a golden cap. The capacity of one package equals 50 ml or 100 ml.
How to use Huile Prodigieuse® and Huile Prodigieuse® OR from Nuxe? The products have to be massaged into body or face skin or rubbed into hair. The cosmetics can be accompanied with a make-up foundation in order to add a variation to our daily make-up. What is more, Nuxe products can be poured into water, while bathing, in order to moisturise skin without necessity of applying a body balm afterwards.