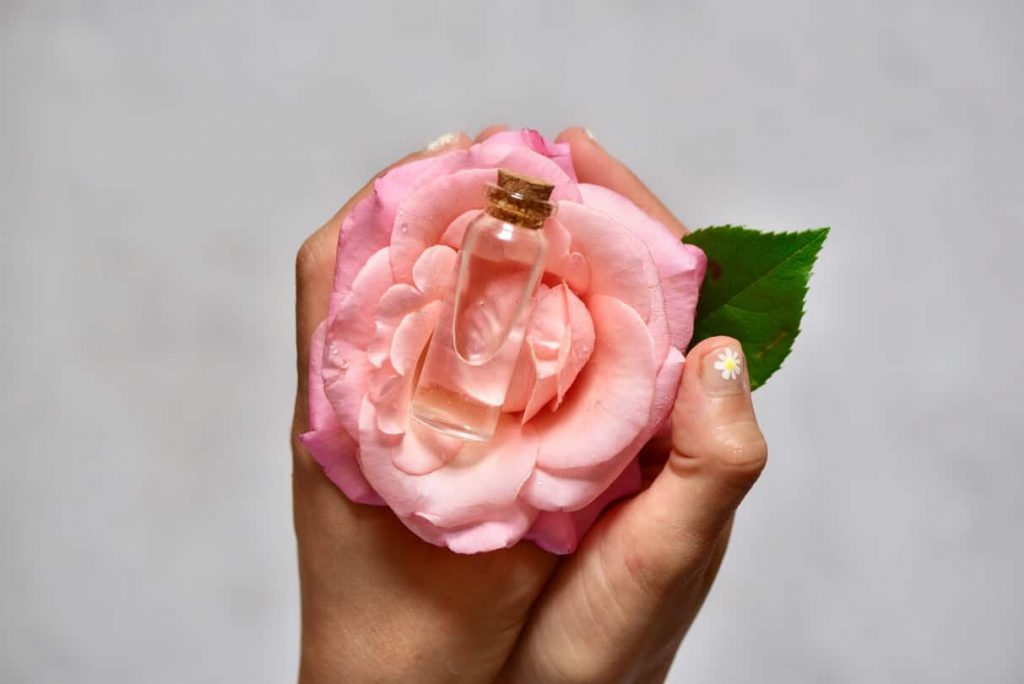 Rose scented care is a dream of most women. All you need for the dream to come true is to use rose water. Check what kind of properties rose water holds and is it worth implementing it for the at-home SPA.
Relaxing foam bath with rose petals. What else could you want? This movie-worthy scene does not have to be reserved for the screen because each one of us deserves aromatic skincare in the truly luxurious style!
Obviously, the at-home care with rose does not necessarily have to look like SPA. You don't need a bouquet of roses in order to have fresh petals and feel the scent of flowers. The rose water will do that for you as it is a natural cosmetic that we tend to go for, more and more.
The rose water. What is it?
In the search for anti-age ingredients in cosmetics, it's impossible not to come across rose water. What is it? The rose water is none other but floral water – the type of water obtained from rose flowers. The purest version is obtained by distillation of rose essential oil, however, rose water is to make even at home (see the recipe below).
You should know that the benefits of rose water were appreciated by Cleopatra so it is a natural cosmetic known for ages! Nowadays, this cosmetic is the most popular in Arabic countries.
The rose water properties
Why are we so eager to use rose water in skincare? Though it may seem like the only meaning here has a pretty scent, rose water has a lot of other properties.
The way rose water works is a direct result of its composition. In high-quality rose water are bioflavonoids, vitamins B, vitamin E, vitamin C, and betacarotene (but it's not the full list of ingredients!).
Thanks to those ingredients, natural rose water:
has pH close to natural skin pH;
is a strong antioxidant;
is antiseptic and anti-inflammatory;
soothes and calms irritation;
supports acne elimination;
fortifies brittle blood vessels;
cleanses and moisturizes skin;
inhibits aging processes;
makes skin supple and lessens wrinkles.
The rose water in skincare – the use
Rose Water is often used in cosmetology. Where exactly can you find it? Most of all, in face care products (especially for sensitive skin), but not only.
Here are the most popular ways to use rose water.
● FACE TONER
The rose water is truly a gentle and natural cosmetic with a reaction close to the skin's natural pH. That is why it works so well as a face toner to calm irritation, cleanse, refresh and coat the skin with pleasant rose aroma.
● FACE OR HAIR MIST
High-quality rose water is also great as a natural face and hair mist. You just need to spray the skin with it to refresh, cool and protect it against irritation, for example, caused by the sun. When used on hair, it can prevent frizz and ensure a healthy gloss.
● MAKE-UP REMOVAL
The rose water can be used as a lightweight make-up removal cosmetic. You should consider its use especially if you have skin prone to irritation. Just soak a cosmetic pad with the floral water to effectively remove all the dirt and make-up while moisturizing and calming the skin around the eyes.
● FACIAL ESSENCE
Great idea is to use the rose water as a moisturizing facial essence (also for the neck and cleavage if you're up for the complex skincare). It is recommended especially for acne-prone and mature skin as it is known to cleanse the skin and hold anti-aging properties.
● BASE FOR FACIAL MASKS
All of you who love facial masks but dislike the oily formula of them being based mostly on oils should use masks based on rose water. It is a lightweight option for homemade cosmetics.
DIY Rose Water (the recipe)
The curious thing is that you can make rose water yourself. To be true it won't be as infused with nourishing ingredients but it is a very good replacement for essential rose water.
What will you need?
0,5 L/ 2 glasses of distilled water,
petals of 5-7 fresh roses.
The recipe for DIY rose water: remove the petals from flowers and gently wash them under warm water; towel dry the petals with a paper towel and place them in a pot and pour distilled water over the petals; boil for 15 minutes till the petals lose their color; when cooled down strain your rose water and pour it into glass bottle.